Framegrabs





Springfield! Springfield! has the largest online collection of Simpsons, Family Guy, South Park, American Dad, The Cleveland Show and Futurama framegrabs!


Simpsons Framegrabs | Family Guy Framegrabs
Futurama Framegrabs | South Park Framegrabs
Cleveland Show Framegrabs | American Dad Framegrabs
iPhone Web App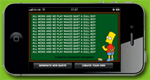 Display a random chalkboard quote from the show or create your own chalkboard quotes with Bart's Chalkboard Generator wep app for iPhone!